10 Reasons to use Managed IT Services for your Business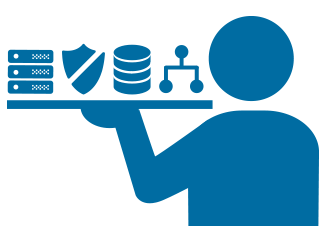 One of the most challenging aspects of running a business is setting up and maintaining the company network. Computers are great tools that we rely on. When they are not working the way they should, frustration soon follows.
IT Companies like Umbrellus are in place to take the burden away from the company by managing these services for you. Here are 10 ways that your company can benefit from letting us be your IT service partner.
Expertise at your fingertips – Most IT Service Companies have been working with issues from a variety of situations that rise during the course of business. Their expertise is wide ranging and they act as liaisons between you and the wide world of technology. IT Service Companies can make experienced recommendations on IT products and technologies. They also know how to get to the manufacturer's support personnel and can speak their (techie) language.
Heads up Approach – Managed IT Service systems include warnings and allow IT personnel to access routers, printers, and servers remotely. In some cases email alerts can be sent when errors occur. A closer eye on network systems means that problems can sometimes be headed off and replacements can be made during slow times.
Increased Security – IT Service plans include complete antispam and antivirus solutions for the entire company. Hackers are always trying to get in, so most IT Service companies install business class routers to deal with this threat. Also, IT service techs have seen a lot of attempts to attack the firewalls and servers and try to stay a step ahead of the hackers.
On Site Service – Not all problems can be handled remotely, so a good Managed IT Service company also has technicians available to go to your location. Having a local IT company on standby for repairs is necessary, because when it rains it pours.
Critical Support – Sometimes problem occur out of your control at the worst possible time. In these cases, it is critical to have a support team that knows your network and can remedy the problem quickly.
Free up more company time – The less time that you spend setting up new equipment and dealing with tech issues, the more time you have for bringing in more business and keeping employees and managers doing what they were hired to do.
Increased Focus – Taking computer hardware completely out of you mind will help you focus on the goals that you have set for yourself and your employees. At Umbrellus, implementing networks and fixing computer problems is our focus.
Save Money – It can take many hours to figure out a technical problem when you don't have the expertise. That can cost you money in lost time for yourself or your office manager. Calling someone to fix it after you have tried for a little while will be more cost effective than spending an entire day trying to figure it out. For larger companies, keeping a hired tech on staff will require a salary and office space. Also, Managed IT Service Plans offer a discount on the normal cost of hourly rates.
Centralized Support – Instead of having several having several support numbers to call when you have a hardware or software problem, you can have one number to call to handle all of it. Managed IT Service companies will take the call from you and handle the rest. In most cases they can handle the issue themselves without having to call the manufacturer or software company.
Company Image – Managed IT Services also include corporate level products like Microsoft Exchange Server with Office365 that allow for more company collaboration and better ability to access your company information from various devices. Also, getting problems handled quickly with your "tech dept." makes you look more in control of your business operations when you are in front of customers.
If you are interested in a Managed IT Service Plan for you business, we have several plans that will fit your company's needs. Please contact our IT Service Department at 704-771-1980 to discuss your options.
Greg Dinnsen
President of IT Services
Umbrellus, LLC